Getech: corporate social responsibility
As a nationwide company and a local employer, Getech recognises that it has a responsibility to the community in which it is based. The company has an active role in improving the quality of life of the neighbourhood in which its employees live and regularly focuses on supporting community programmes.
---
How we help
Charitable activity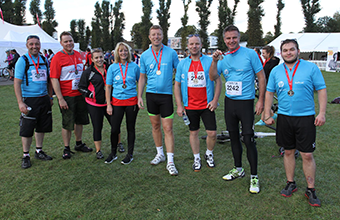 Over recent years, Getech and our staff have actively been involved in helping to support the following local and national charities.
E.A.C.H. – East Anglia's Children's Hospice
Suffolk Cancer Research
St. Elizabeth Hospice
Macmillan Cancer Support
East Anglian Air Ambulance
Suffolk Carers
Headway – brain injury charity
Fresh Start – New Beginnings
The Lullaby Trust
The Prince's Trust
St. Helena Hospice
CHAIN (Colchester Helping Anyone In Need)
Genesis (Orwell Mencap)
DONS Local Action Group
Every year, at Christmas, Getech runs a raffle amongst the staff. The prizes are donated by our suppliers and members of staff with all monies raised going directly to local charities.
We also participate in the World's Biggest Coffee Morning, helping to raise money for Macmillan Cancer Support. Recently the money we raised has gone towards the £4.7m Woolverston Macmillan Centre at Ipswich Hospital.
In addition to fund-raising, we have donated office furniture and computer equipment to local businesses and start-ups within the area.
DONS Local Action Group
Getech is delighted to have helped our partners Izzytea.com secure Chromebook donations for the valuable work of Dons Local Action Group who have already delivered over 800 laptops and tablets thanks to many generous donations. Together we are ensuring that children can stay connected while they learn.
Office tuck shop
A tuck shop selling crisps, sweets and drinks to Getech staff raises money for a local youth football team, Holbrook Hornets. Recently, the team were given a defibrillator after Suffolk FA staff completed their #LiveFootballChallenge in which a Getech staff member completed 22 miles of the challenge as Director of Suffolk FA. For more on this story, click here...
Environmental responsibility
Getech takes its environmental responsibility very seriously and works hard to ensure that its environmental footprint is as small as possible.
Any computer hardware that is beyond its serviceable life is environmentally recycled by Recycle IT.
Cardboard from packaging, paper waste and dry-mix waste is all recycled locally by Bolton Bros.
All scrap metal is recycled locally by Sackers.
Work placements
Helping local students to gain some practical, real-world experience will help them moving forward with their studies and their career. Each year, Getech gives a number of students the opportunity to further their studies by offering work placements, some of whom have gone on to work full time for Getech once they have completed their studies.
Modern Slavery Statement