Endpoint Hardware & Software Solutions for Cloud Workspaces & Virtual Desktops
10ZiG Technology offers Energy Efficient and Sustainable Thin and Zero Client Endpoint Solutions for all major DaaS, SaaS and VDI platforms. 
10ZiG provides Hardware, In-House Developed Operating Systems, PC Repurposing and FREE Coud Ready Management allowing you to implement a single vendor unformed end-point strategy that is reliable, high performance, easy to manage and secure. 
UK based EMEA Head office providing build, shipping, sales and support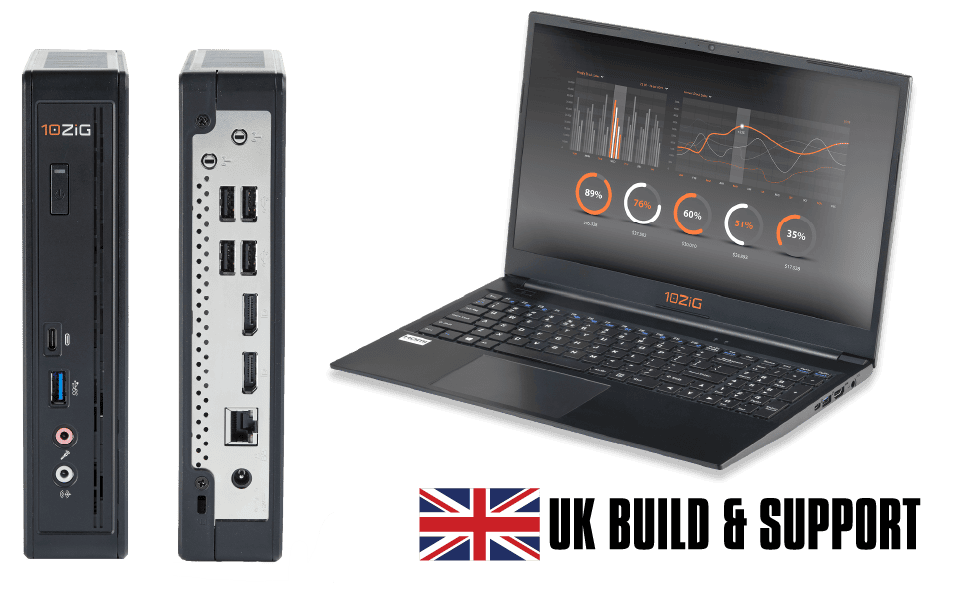 Hardware, Software, Management
Deliver a Single Vendor Endpoint Strategy
Tailor-made solutions from their in-house Development teams 
Ahead of the curve – quick to market with the latest feature sets and optimisations 
Perpetual licensing on all 10ZiG Linux Thin Client and Zero Client hardware
Support for AVD, Amazon Workspaces, Citrix, Frame, Microsoft, VMware and more
No platform lock-in, switch between Cloud/VDI platforms with a FREE firmware upgrade
NOS Zero Clients dedicated to either AVD, Citrix and VMware with Teams Optimisation 
FREE
Evaluation devices – no obligation and return shipping included
FREE
Enterprise Cloud Ready Management Tool – 10ZiG Manager
FREE
3-year of Software Support
FREE
Product training tailored to your requirements
FREE
Access to Certified UK-based sales and support team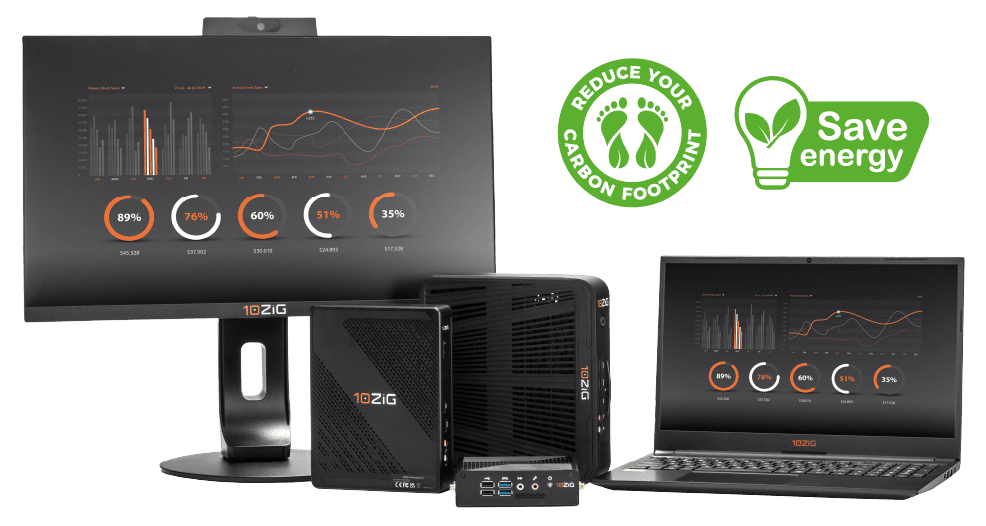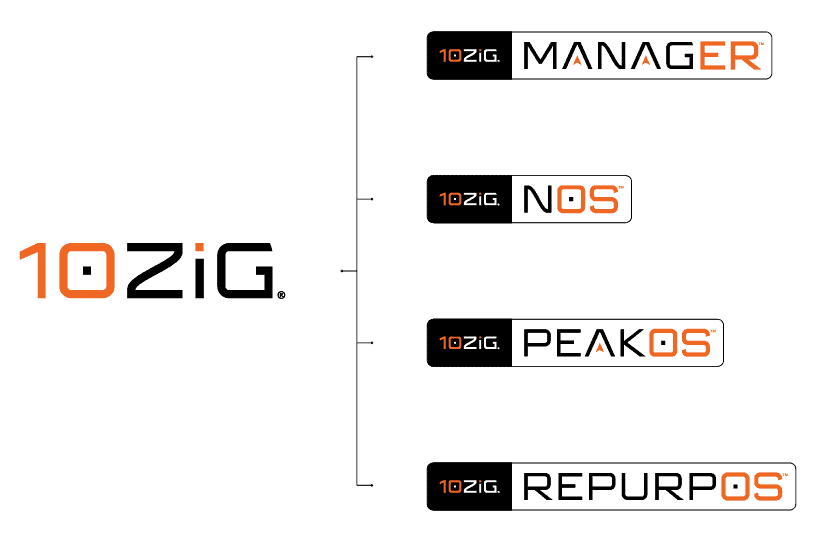 The 10ZiG Solution Ecosystem
End-to-end Endpoint Solutions Providing a Standardised UX Organisation Wide
10ZiG hardware is just the tip of the iceberg. The 10ZiG product stack is a true end-to-end endpoint solution which allows you to give everyone the same experience organisation wide whilst only managing one hardware and one OS vendor. We take the pain out of provisioning, rolling out, supporting and managing your endpoint estate… 
Wide range of Thin and Zero Client Hardware including traditional form factor, AIO and Mobile Laptop Thin/Zero Client. 
In-house developed Operating Systems including NOS (Zero Client), PeakOS (Linux) and Windows 10 IoT.
PC Repurposing software RepurpOS breathes new life into old PC's, Laptops and third-party Thin Clients. 
Arching over 10ZiG Hardware and Software is 10ZiG Manager the 100% FREE Cloud Ready Management Tool with an unlimited user license and no hidden costs or upgrade paths. With the ability to manage both 10ZiG hardware and 10ZiG repurposed hardware, you have the ability to support and manage your 10ZiG estate from a single pane of glass regardless of whether your user is based at the office, at home, in another city or anywhere in the world. 
The solutions stack from 10ZiG allows you to deliver and endpoint strategy that delivers energy, efficiency, sustainability, security, scalability and most importantly the same exceptional user experience across your whole organisation with either a full 10ZiG hardware environment, a full 10ZiG repurposed endpoint environment or a mixture of the two across your estate. 
10ZiG Hardware
10ZiG Operating Systems
10ZiG RepurpOS
10ZiG Manager
10ZiG Hardware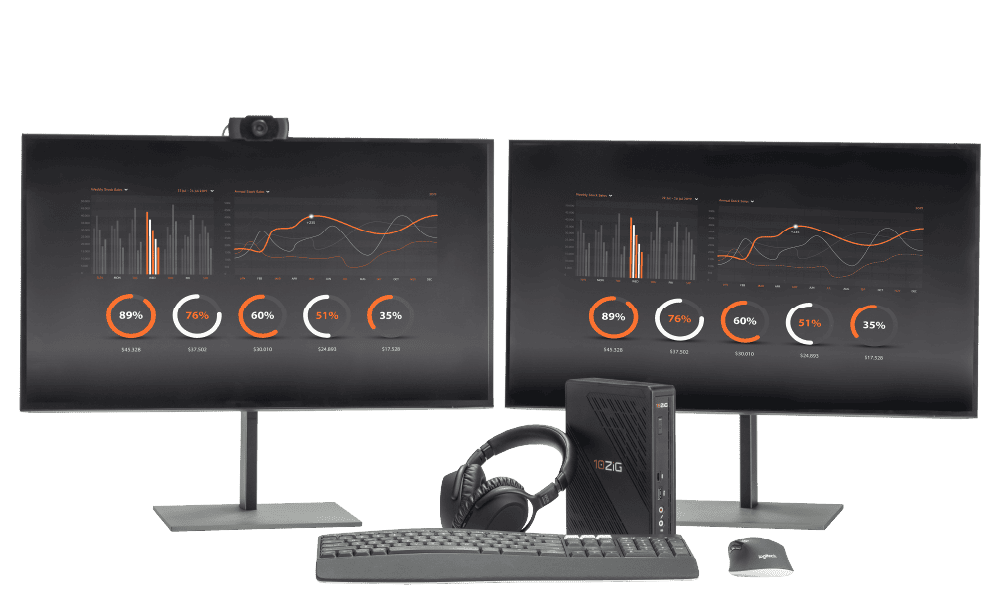 The 10ZiG hardware range supports AVD, Amazon Workspaces, Citrix, Frame, Parallels, RDS, VMware, Windows 365 Cloud PC, Workspot and more. Hardware options include traditional form-factor devices through to all-in-one and mobile Laptop Thin & Zero Clients. All come with a choice of 10ZiG operating system and a multitude of display and connectivity options. 
Dual monitor, quad monitor, SMART card, USB 2.0, USB 3.0 and USB-C are all featured within the range with the addition of optional wireless, Fibre, VESA Mounting, legacy ports, TPM and TAA.
10ZiG Operating Systems
10ZiG RepurpOS
10ZiG Manager
Create a standardised, single vendor endpoint strategy with 10ZiG Technology
Reach out to our team today to find out more about 10ZiG devices.