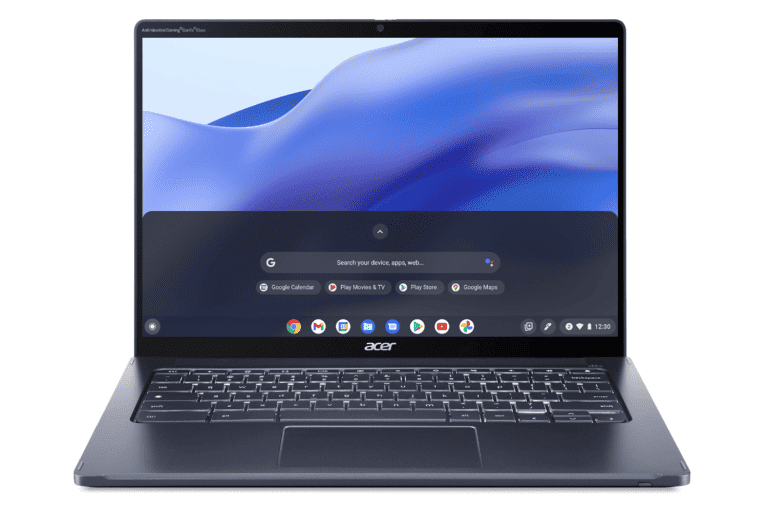 The Acer Chromebook Spin 714 is one of the most high-performance 2-in-1 ChromeOS devices on the market in 2023. It features up to an Intel Core i7 processor that can power anything you need to run on a Chromebook, backed by up to 16GB of RAM and up to 512GB of local storage. Many users won't need such a spec, but for those use cases where only the best will do, the Spin 714 is definitely one to look at.
Beyond the typical parts menu you'll expect in this price point, the Acer Chromebook Spin 714 boasts a number of extra features that helps deliver one of the best user experiences available on ChromeOS. A full-HD MIPI webcam with temporal noise reduction ensures you look your best on video calls, even in dim lighting. Tinny, flat sound isn't an issue either thanks to the twin upward speakers that put out up to 256% higher volume than standard laptops, and the dual-microphone array provides clear sound on calls.
The 14-inch Wide Quad XGA display provides more screen real estate than standard widescreen displays thanks to its 16:10 aspect ratio, and the 100% sRGB colour gamut promises vibrant, highly-accurate colour reproduction. Made with Corning Gorilla Glass for a premium feel and protection, it's low-blue-light TUV certified and features an antimicrobial surface to protect from stains and bacteria while also improving eye comfort during long sessions.
You might be concerned that a device of this specification will struggle when it comes to the standard of ChromeOS all-day battery life, but the Acer Chromebook Spin 714 will perform for 10+ hours and only needs 30 minutes on charge for four hours of power. Paired with the USI stylus (which only needs 15 minutes of docking for four hours of continuous use), this makes the Spin 714 an attractive device for design work and editing.
Like this device? Get a quote!
Complete the short form and your Getech account manager will
reach out to you with more information based on your request.
Alternatively, contact us directly on 01473 243438