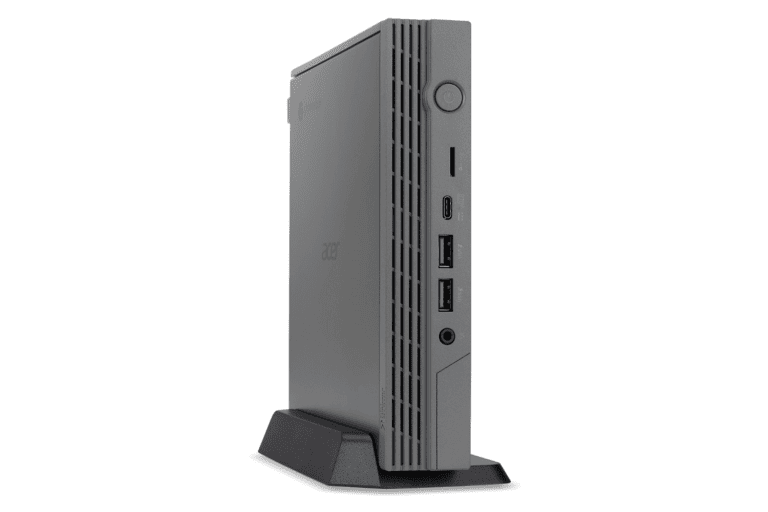 Chromeboxes are the ideal form factor for any business in need of a compact device to power their digital signage, kiosks, point-of-sales and set workstations. The new CXI5 is Acer's latest iteration of their popular ChromeOS solution, building on the now end-of-life CXI4 to deliver a versatile Chromebox that gets the job done.
Featuring all the connectivity support you would expect, the Acer Chromebox CXI5 ships with four USB 3.2 Gen 2 Type-A and two USB 4 Gen 3 Type-C ports that allow maximum data transfer speeds of 40 Gbps – Four times faster than the previous generation. Coupled with a couple of HDMI 2.1 ports, the CXI5 allows you to display your content on up to four external displays at once. The bundled VESA kit lets you mount the device securely just about anywhere, keeping workstations and display stands clear from clutter.
One of the key advantages of ChromeOS using Chrome Enterprise is the ability for IT admins to manage their fleet of devices from anywhere via the Google Admin console, so ensuring your Chromeboxes have internet access is important. The CXI5 comes as you would expect, the latest technology with regards to Wi-Fi 6E and 2.5GbE Ethernet on the Core i7 model, which can handle network speeds 2.5 times faster than previous versions, with extremely low latency.
Like this device? Get a quote!
Complete the short form and your Getech account manager will
reach out to you with more information based on your request.
Alternatively, contact us directly on 01473 243438