The LEGO Learning System consists of engaging elements, inspiring resources and learning experiences. LEGO Education helps you to expand the way you think about education and push the boundaries to create fun, active and challenging experiences for children of all ages. Adding LEGO sets into the equation makes it irresistible for kids to learn about STEM because of the fun factor associated with LEGO and the challenge of creating something new and innovative.
The LEGO Learning System is a great way to teach STEM in the classroom. The following are different ways to incorporate learning and play with LEGO Education.
Integrate STEAM principles
Do you want your students to be engaged and excited about learning? Integrate STEM principles into your classroom. STEM education focuses on science, technology, engineering and mathematics, but adding art can make a huge difference in how kids view their education. By incorporating art into STEM classes, you can teach children that there is more than one way to approach problems and encourage them to think outside the box.
The LEGO Learning system provides 75 hands-on, comprehensive lesson plans of varying lengths and challenge levels. Each lesson plan comes with everything from material lists to building instructions. Everything that you need to give a great lesson.
Encourage collaboration
Students can use their imagination and creativity when they build with LEGO bricks, making it easier for them to collaborate on projects. Encouraging students to work together can help them learn how to collaborate better and solve problems as a team. They'll discover skills that aren't always taught in traditional classrooms but are essential in today's workforce.
LEGO Education has a range of products that encourage student collaboration. Units such as "Amazing Amusement Park" and "Invention Squad" encourage them to work together in groups to solve problems or complete tasks.
These resources can encourage teamwork and help students develop positive relationships with classmates. They also provide the opportunity to learn from one another while having fun!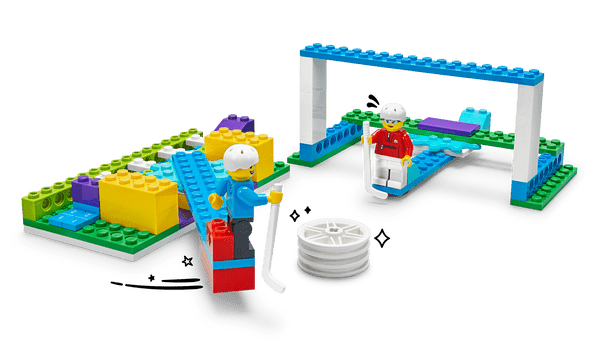 Make learning relevant to the real world
LEGO bricks are an inherent part of childhood, so it's no surprise that kids love using them at school. But what really makes the difference is how they use them. When you help students see how they can apply their knowledge outside of class, they'll be more engaged in what they're learning and have a stronger sense of its value.
Children want to learn about things that relate to them and their environment; try making lessons more real by associating them with what your students already know. The key to getting kids excited about learning is by making it interesting and relevant. With the LEGO Learning System, you can do just that! Create real-life scenarios that will help your students learn about history, science or even math by using LEGO Education.
Keep it fun and engaging
LEGO bricks are awesome tools for learning. They can be used in multitude ways, including building, programming and creating. The best way to keep kids engaged is by making the activity fun. Whether you're teaching them about robotics or telling them the story, keeping it interesting will help them retain information better.
LEGO Education has a lot of great resources for teachers, parents and students alike. You can also find building instructions for specific models like robots and vehicles that are great for hands-on learning!
Play is a powerful learning tool!
Not only is LEGO Education fun and engaging, but it's also easy to integrate into any classroom. LEGO in the classroom can be a fun and engaging way to learn! The research done on children who learn with LEGO shows they have an increased ability to multi-task, with better problem-solving skills and enhanced academic abilities.
Learn more about LEGO Education and Getech