LEGO® Education
SPIKE™ App
Engage every pupil in playful STEAM learning with the LEGO® Education SPIKE™ App. Designed for use with the LEGO Education SPIKE Portfolio, the LEGO Education SPIKE App is a powerful and inclusive tool that helps teachers facilitate engaging, hands-on STEM learning.
SPIKE Essential and SPIKE Prime encourage pupils of all learning levels to move from simple explorations to tackling increasingly complex real-world challenges through building and coding.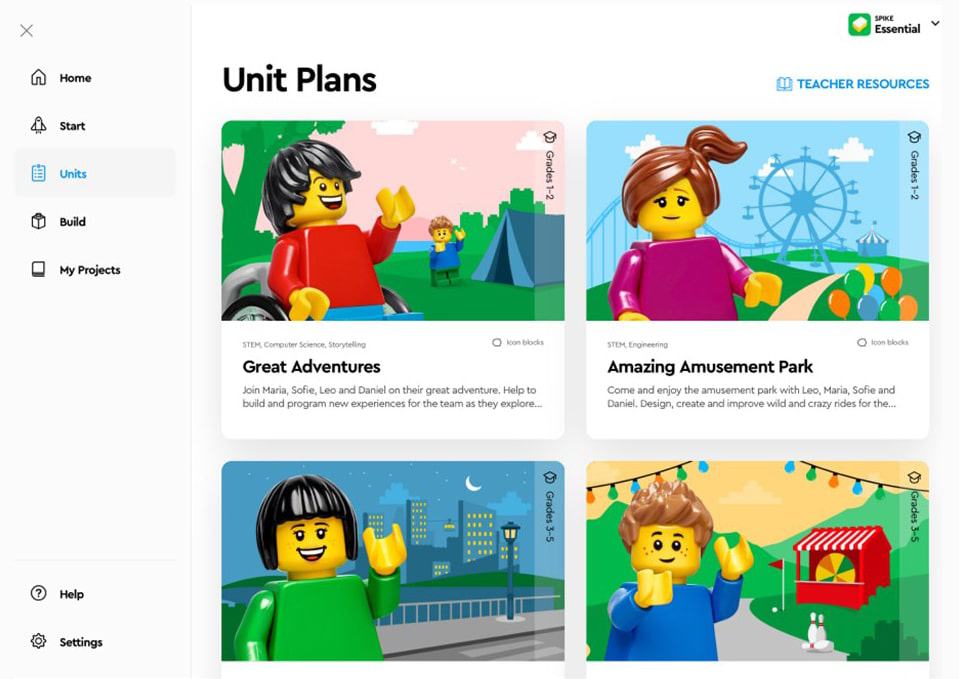 one app - endless possibilities
Intuitive, exciting and fun
The LEGO Education App provides multiple intuitive coding environments which, when combined with SPIKE Prime or SPIKE Essential, offer a naturally adaptive, physical and digitally creative system that teachers and pupils alike love to use.
Pupils first progress from using simple icon blocks to word block coding based on Scratch and finally, Python to code their creations and bring STEM learning to life.
The LEGO Education SPIKE App delivers exciting and playful learning experiences for pupils of all abilities.
LEGO Education SPIKE App is available for
In addition to Getting Started material for SPIKE Essential and SPIKE Prime, the LEGO Education App includes 10 unit plans containing curriculum-aligned lessons with integrated building instructions for primary and secondary school pupils. These units engage pupils in meaningful STEM challenges using playful lessons with clear intentionality and progression, scaffolded to support teachers and pupils in building essential skills.
The accompanying online lesson plans support teachers with a wealth of accessible, interactive support material, giving them everything they need to bring STEM learning safely and sustainably into their classrooms.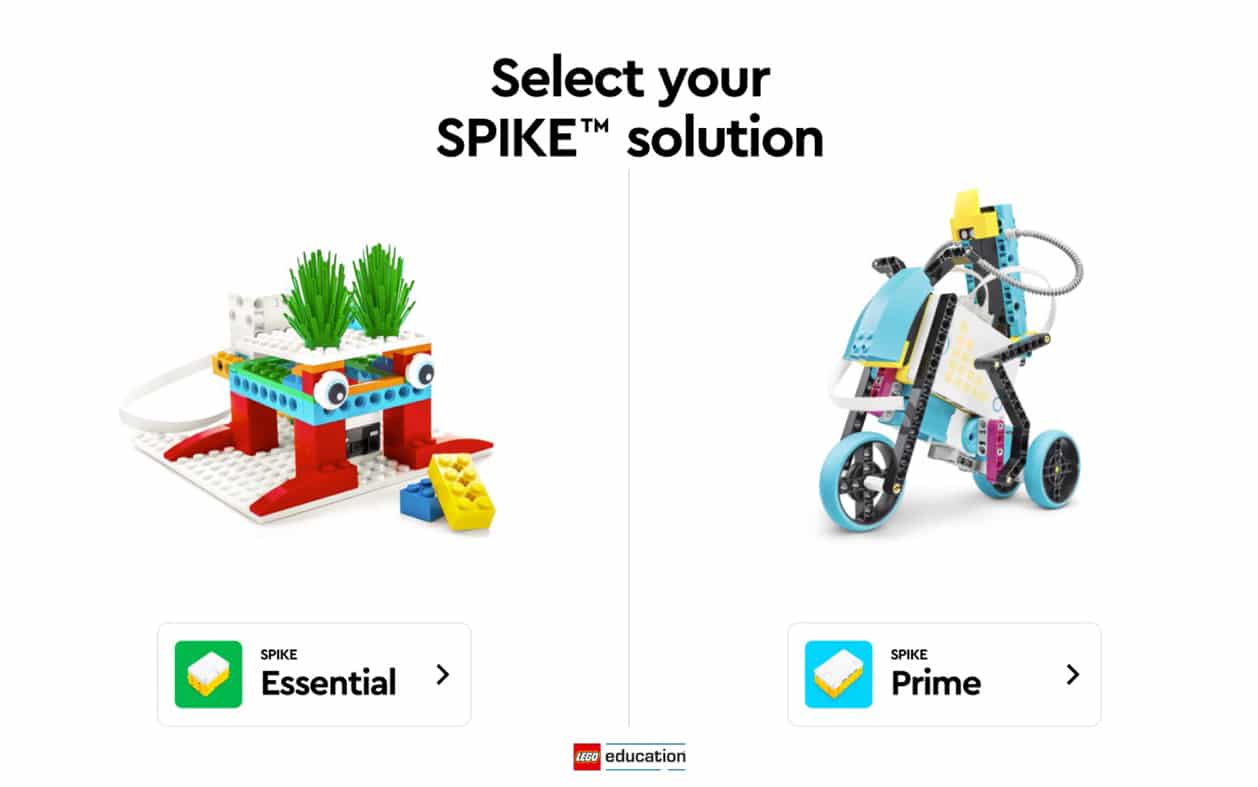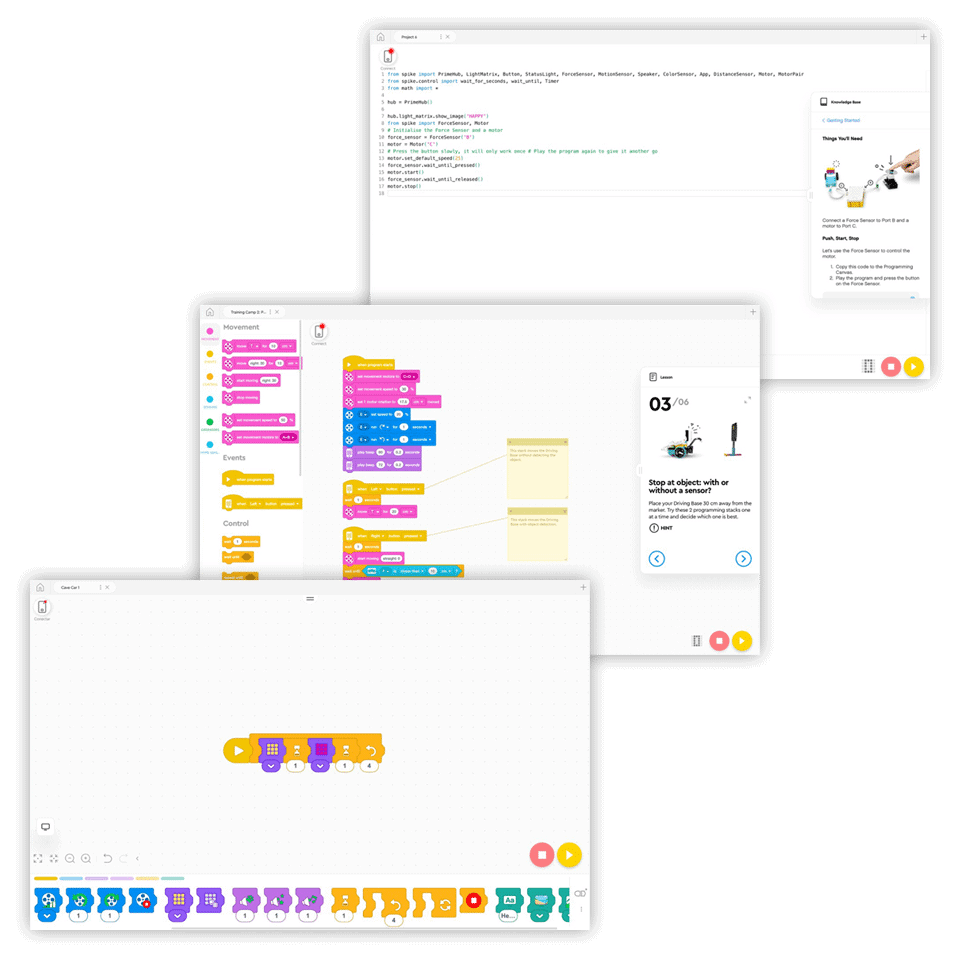 Future-proof your pupils' skills and make them confident lifelong learners by giving them unlimited possibilities for playful, hands-on STEM learning with the LEGO Learning System.
The SPIKE Portfolio is part of the LEGO Learning System's range of interconnected solutions that can be introduced individually or as a complete system. They supplement each other and, together, unlock unlimited learning opportunities.
When combined with SPIKE Essential or SPIKE Prime, the SPIKE App allows pupils to apply their learning and go deep into coding, technology and digital integration. They develop computational thinking skills using a progression of icon-block, word-block and text-based coding.
Programming a SPIKE Essential or SPIKE Prime multi-port hub and connecting motors and sensors with a system of LEGO elements encourages pupils to build, tinker and experiment – progressing from simple creations to complex structures and mechanisms. They learn to program, think like engineers, test and tweak designs, debug and optimise, operate with integers, play with data, create stories with LEGO Minifigures, prepare for FLL (FIRST® LEGO League) competitions and more!
LEGO, the LEGO logo and the Minifigure are trademarks of the LEGO Group. Used with permission. © 2023 The LEGO Group.
If you would like to know more about LEGO® Education and how it can help your school, complete this form and we'll be in contact with you soon.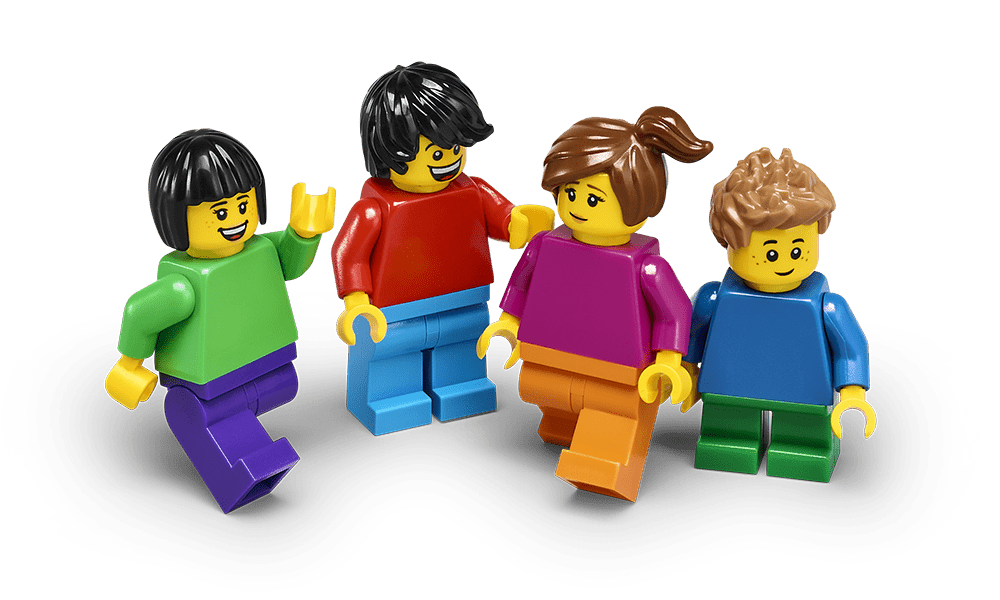 This form collects your personal data so we can respond to your query.
To see how we use your data please view our Privacy Policy.