Positive STEM learning with LEGO® Education SPIKE™ Prime
LEGO® Education SPIKE™ Prime is the go-to STEM learning solution for secondary school pupils, preparing them to be confident creators in an ever-changing world shaped by technology.
LEGO Education SPIKE Prime engages all pupils in thinking critically, analysing data and prototyping creative hands-on solutions for complex problems with real-world relevance. From easy-entry lessons to advanced experiences, pupils of all learning levels build their confidence and resilience along with the 21st century skills that are vital to their future success.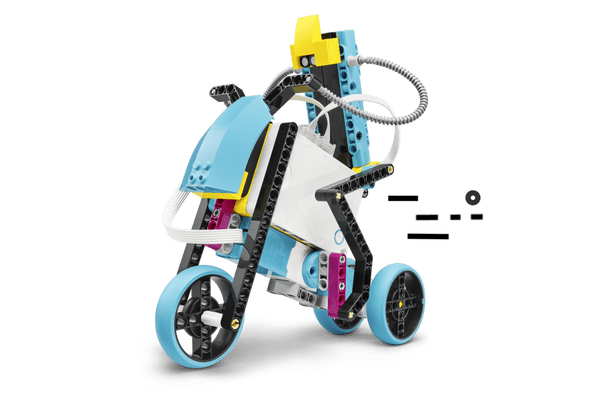 Kickstart STEM learning with SPIKE Prime
SPIKE Prime combines curriculum-aligned STEM lessons with LEGO bricks, a programmable multi-port Hub, and Scratch-based and Python coding languages. It allows pupils to explore topics such as the design process and data science, setting the foundation for learning about real-world technologies like machine learning and artificial intelligence.
Flexible built-in scaffolding and competency-based professional development opportunities make it easy for teachers to get started and move from one unit to the next.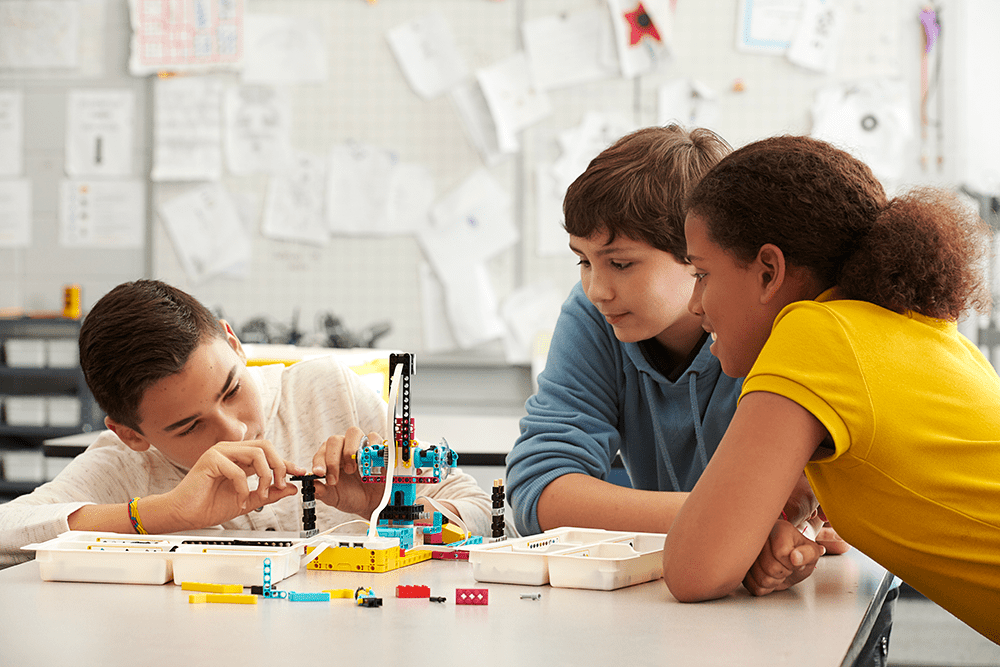 Engaging problem-solving with real-world relevance
SPIKE Prime helps all pupils develop effective problem-solving skills. With SPIKE Prime, pupils think critically, analyse data and practise computational thinking by decomposing problems into smaller parts. Pupils are therefore able to prototype creative solutions for complex problems with real-world relevance
SPIKE Prime motivates pupils to become confident creators
SPIKE Prime motivates pupils to try, learn and try again. To build, unbuild and rebuild. To create prototypes of innovative solutions to real-world problems in a safe environment where they learn and develop resilience through meaningful failures, making them better able to take on the challenges of an ever-changing future.
Explore the power of data science
From engaging lessons covering topics like the practical applications of weather data to generating real-world data using movement, SPIKE Prime offers pupils many opportunities to explore data science.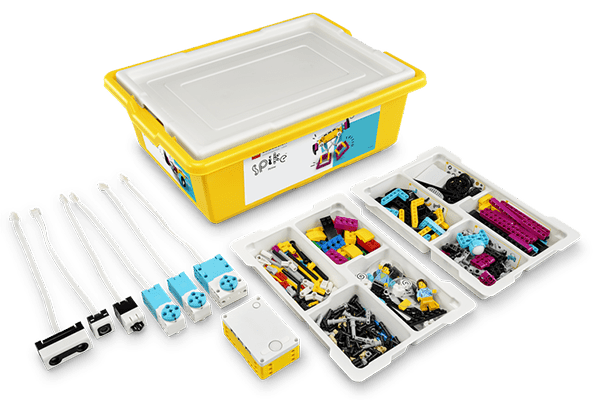 LEGO Education SPIKE Prime comes with a range of innovative elements providing an easy and adaptable building experience for all students.
528 LEGO elements, including intelligent hardware
Extra smart components including force and distance sensors and larger angular motors
Teaches skills such as text-based programming with Python, debugging and complex problem solving
33 lesson ideas for nearly 25 hours-worth of structured learning
Ideal for students aged 11-14 to ignite their passion for STEM subjects before picking their GCSEs
Easy build with innovative elements
LEGO Education SPIKE Prime comes with a range of innovative elements providing an easy and adaptable building experience for all students.
Large multi-port hub has an extra 5x5 light display, gyroscope, accelerometer and speaker.
Distance sensor can measure distance to an object or surface using ultrasonic technology.
Large angular motor
has more power and torque than the small motor. Prime also has 2x medium motors.
Force sensor can detect touches, taps and measure force.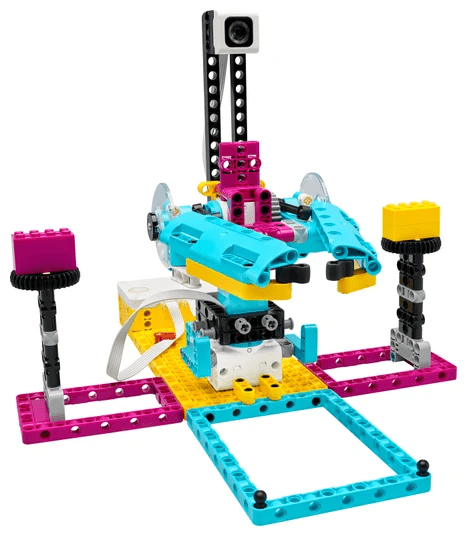 LEGO Education SPIKE Prime lesson plans are designed to help students develop the abstract and critical thinking skills they need to solve complex problems. The standards-aligned lessons provide a variety of learning experiences that relate directly back to students' real-life questions and observations, building their confidence and preparing them for life beyond school.
Learn how to make cloud data useful and reliable
Design projects combining hardware and software components to collect and exchange data
Use code to recognise patterns
Program compound conditions to control encoded devices
Construct, analyse and interpret graphical displays of data
Find mathematical relations to find answers to scientific questions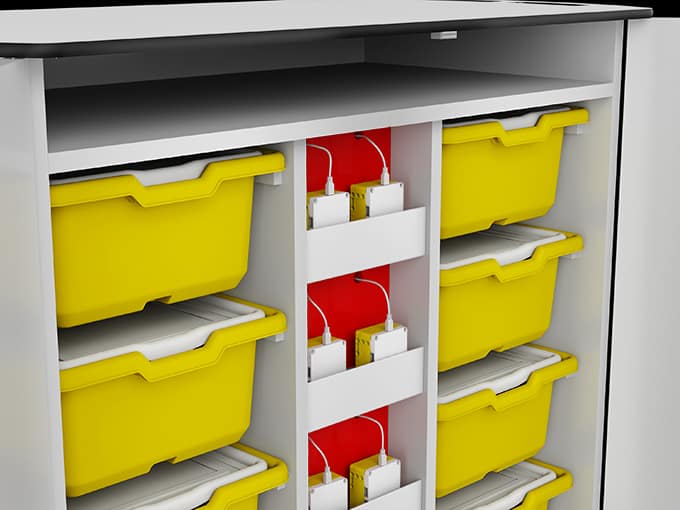 Zioxi's LEGO Spike Charging Trolley
The LEGO Spike Charging trolley provides charging for 8 LEGO Spike programmable bricks and storage for 8 Spike Prime tray sets. The AC chargers (not supplied) are stored in a separate electrical compartment, hidden by the removable red panel accessible from the front of the trolley.
LEGO, the LEGO logo and the Minifigure are trademarks of the LEGO Group. Used with permission. © 2023 The LEGO Group.
Complete the form to arrange a quote for LEGO Education Spike Prime.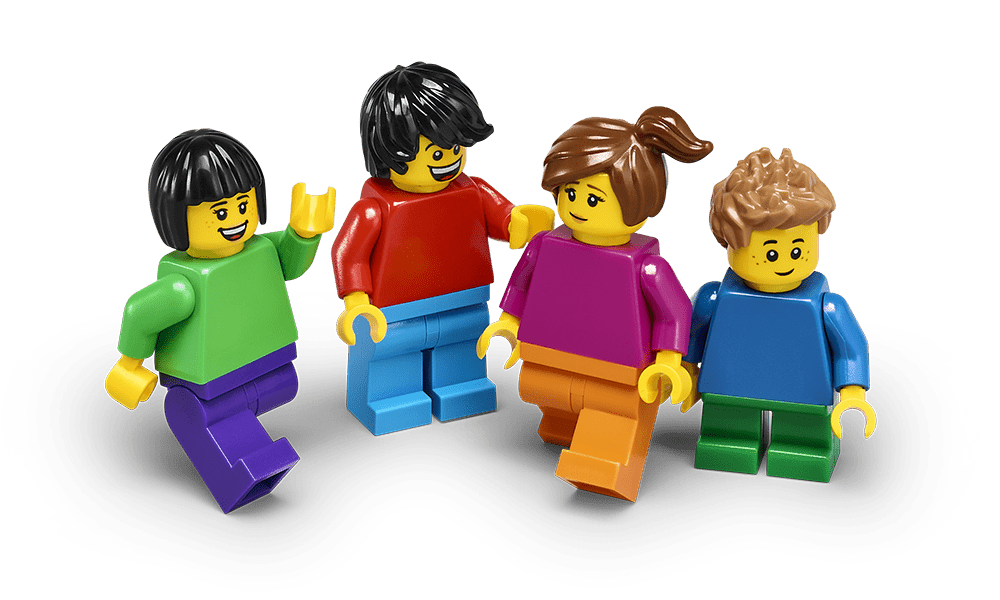 This form collects your personal data so we can respond to your query.
To see how we use your data please view our Privacy Policy.